The Hoenn Cup
Get ready for an all new GO Battle League Challenge!
Affronta una nuova sfida in Lega Lotte! La più recente Coppa a tema di Lega Lotte GO - la Hoenn Cup - è disponibile su silph.gg! Finalmente una nuova occasione di mettersi alla prova migliorando il posizionamento a livello locale e globale. I tornei Hoenn Cup seguono le stesse regole base di tutte le Coppe Arena, ma con una piccola variazione! Ecco cosa ti serve sapere:
What Is The Hoenn Cup?
The Hoenn Cup is a unique format played during the Season 13 of GO battle League. During this time (February 17th - February 28th), local Silph League communities host and record a special tournament using the free Silph.gg tools. Wins and losses in this local tournament affect your player rank on local and global leaderboards, and can help you progress towards higher player tiers!
Tutti i giocatori sono i benvenuti, che siano al primo o al centesimo torneo! Trovane uno nei dintorni tramite la Mappa Tornei!
Regole Hoenn Cup
The Hoenn Cup ha delle regole speciali (pensate per un pizzico in più di sfida e divertimento) che differiscono dalle lotte PvP standard di Pokémon GO:
Squadra da 6: I concorrenti devono comporre una squadra di 6 Pokémon (e registrarla prima che abbia inizio il torneo). Tutte le squadre lotta usate durante il torneo possono usare solo Pokémon tra questi 6.
Lega Mega: Si gioca in Lega Mega: sono ammessi solo Pokémon con PL pari o inferiori a 1500.
Hoenn Pokémon Only: Only Pokémon with a Pokédex number between #252 and #386 are allowed in the Hoenn Cup (including Alolan, Galarian, and Husiuan forms).
Lista Idonei: Segue la lista delle specie consentite nella Hoenn Cup:

Gen 3

#252

#253

#254

#255

#256

#257

#258

#259

#260

#261

#262

#263

#264

#265

#266

#267

#268

#269

#270

#271

#272

#273

#274

#275

#276

#277

#278

#279

#280

#281

#282

#283

#284

#285

#286

#287

#288

#289

#290

#291

#292

#293

#294

#295

#296

#297

#298

#299

#300

#301

#302

#303

#304

#305

#306

#307

#308

#309

#310

#311

#312

#313

#314

#315

#316

#317

#318

#319

#320

#321

#322

#323

#324

#325

#326

#327

#328

#329

#330

#331

#332

#333

#334

#335

#336

#337

#338

#339

#340

#341

#342

#343

#344

#345

#346

#347

#348

#349

#350

#351

#351

#351

#351

#352

#353

#354

#355

#356

#357

#358

#359

#360

#361

#362

#363

#364

#365

#366

#367

#368

#369

#370

#371

#372

#373

#374

#375

#376

#377

#378

#379

#380

#381

#382

#382

#382

#383

#384

#385

#386

#386

#386

#386

Gen 8

#263

#264

And in text form:

Absol, Aggron, Altaria, Anorith, Armaldo, Aron, Azurill, Bagon, Baltoy, Banette, Barboach, Beautifly, Beldum, Blaziken, Breloom, Cacnea, Cacturne, Camerupt, Carvanha, Cascoon, Chimecho, Clamperl, Claydol, Combusken, Corphish, Cradily, Crawdaunt, Delcatty, Deoxys, Deoxys (Attack Forme), Deoxys (Defense Forme), Deoxys (Speed Forme), Dusclops, Duskull, Dustox, Electrike, Exploud, Feebas, Flygon, Galarian Linoone, Galarian Zigzagoon, Gardevoir, Glalie, Gorebyss, Groudon, Grovyle, Grumpig, Gulpin, Hariyama, Huntail, Illumise, Jirachi, Kecleon, Kirlia, Kyogre, Lairon, Latias, Latios, Lileep, Linoone, Lombre, Lotad, Loudred, Ludicolo, Lunatone, Luvdisc, Makuhita, Manectric, Marshtomp, Masquerain, Mawile, Medicham, Meditite, Metagross, Metang, Mightyena, Milotic, Minun, Mudkip, Nincada, Ninjask, Normal Castform, Nosepass, Numel, Nuzleaf, Pelipper, Plusle, Poochyena, Primal Groudon, Primal Kyogre, Rainy Castform, Ralts, Rayquaza, Regice, Regirock, Registeel, Relicanth, Roselia, Sableye, Salamence, Sceptile, Sealeo, Seedot, Seviper, Sharpedo, Shedinja, Shelgon, Shiftry, Shroomish, Shuppet, Silcoon, Skitty, Slaking, Slakoth, Snorunt, Snowy Castform, Solrock, Spheal, Spinda, Spoink, Sunny Castform, Surskit, Swablu, Swalot, Swampert, Swellow, Taillow, Torchic, Torkoal, Trapinch, Treecko, Tropius, Vibrava, Vigoroth, Volbeat, Wailmer, Wailord, Walrein, Whiscash, Whismur, Wingull, Wurmple, Wynaut, Zangoose, Zigzagoon

No Doppioni: Solo un Pokémon per specie può far parte della squadra. (Nessun duplicato!)
Per ogni altro dettaglio fa fede il Regolamento Arena.
Come Gareggiare
Registration for the Hoenn Cup will become available to local community leaders on February 21st and February 28th - and any Hoenn Cup must be scheduled for dates between February 17th and February 28th, 2023. Find a Cup tournament near you via the Tournament Map
Domande Frequenti
Domande Leader Community:
Come ospito un Torneo Hoenn Cup nella mia community?
È sufficiente effettuare il login a silph.gg con l'account di un Leader di community autorizzato, e creare un torneo di Coppa nella pagina della community. Il leader riceverà un link RSVP da condividere e, il giorno del torneo, un codice d'accesso per confermare i partecipanti registrati. Per chiarimenti su come creare un torneo, clicca qui.
Come divento autorizzato a ospitare un torneo?
Gli amministratori di community del Discord di Silph League devono solo aggiungersi come "Amministratore Torneo" tramite il bot @SilphRoad di Discord:
Su Discord, usa il comando @SilphRoad add-tournament-admin @username#0000 nel tuo canale #silph-league. (Potresti dover rieffettuare il login a silph.gg!)
Gli amministratori di gruppi o canali Telegram sono autorizzati in automatico.
Devo ospitare Hoenn Cup in una data specifica?
Any date between February 17th and February 28th, 2023 is a valid date to hold your community's Hoenn Cup. The tournament registration page will not allow registering your Cup for an invalid date or time - so as long as you are able to create your tournament on Silph.gg, you will know it is set for a valid date.
Sono leader di una community basata su un gruppo Facebook (o Slack, Line, altre piattaforme). Come ospito una Coppa the Hoenn Cup per la mia community?
Il team Arena sta lavorando duramente per far sì che le comunità fuori da Discord/Telegram possano ospitare tornei. Restate sintonizzati!
Domande Partecipanti:
Come entro in un torneo Hoenn Cup con la mia community?
Trova una Coppa tenuta da una community nei tuoi dintorni tramite la Mappa Tornei e controlla i dettagli dell'evento nella pagina RSVP!
La Hoenn Cup è classificata?
Yes, the Hoenn Cup is eligible to be played as a ranked tournament and will count towards your player ranking similar to an Open League Cup.
Dove posso sapere di più riguardo la classifica giocatore?
Puoi scoprire più dettagli riguardo le Classifiche leggendo la nostra Guida al Livello Giocatore.

Resources & Guides
Time to study up! Conquering this meta requires preparation and practice. Review this collection of guides and resources from Arena contributors and community content creators to help you on your way to victory:
HOENN CUP META SIMPLIFIED!!!
By: STEEEEEEEEEEVE7
The Hoenn Cup is coming to the GO Battle League at the end of this month, so join Steeeeeeeeeeve in taking a look at the Hoenn Cup meta to find out what the meta is going to look like!!!
¡ANÁLISIS META Y EQUIPOS COPA HOENN! - SEASON 13
By: BarbatosRV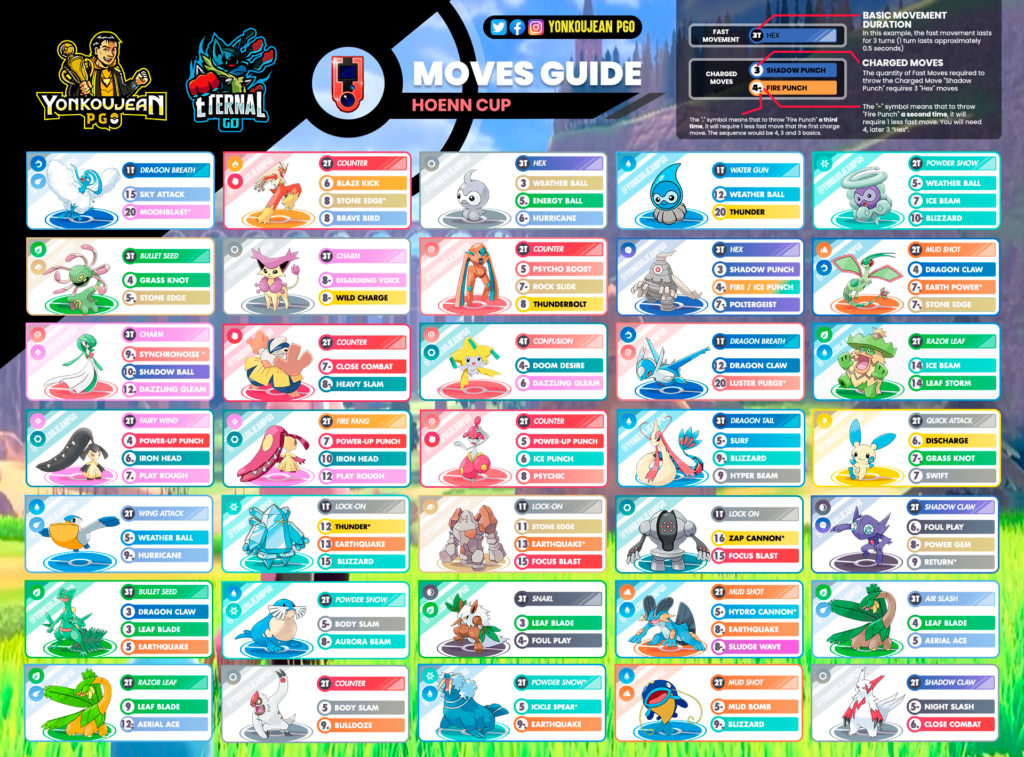 Moves Guide Hoenn Cup
By: yonkoujean
YonKoujean has assembled this handy guide for moveset turns for common picks in the GO Battle League Hoenn Cup.
Live Cup Data
As you plan your battle team, consider the species which appear most frequently in this meta: