« More
The Silph League Arena
Arena Update
Nov 7, 2019:

2020 Regional Invitationals: Earn Your Spot!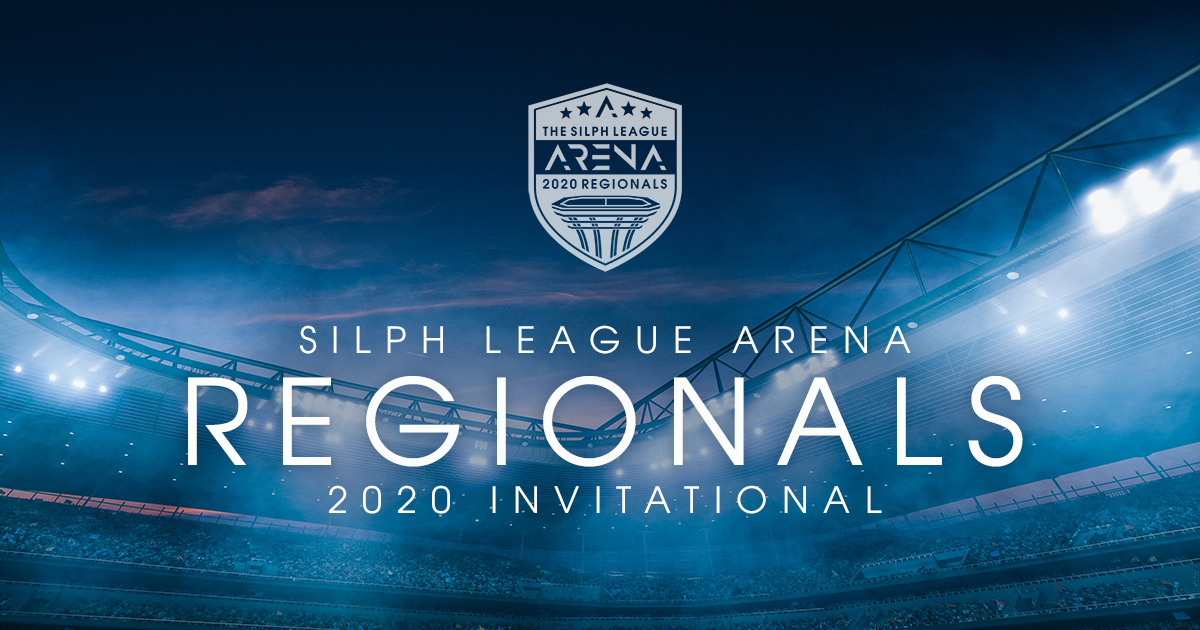 Regional Invitationals are prestigious events which will take place during the month of April for the strongest trainers in each area to come together and test their skills and discover who truly is the most skilled battler in their region. Performing well at Regionals can earn you an invitation to compete at the elite Continental Championships and advance you on the path to World Champion!
All 2020 Regional tournaments will use the same format as April's Arena Cup (to be announced). Competitors can expect Regional invitations to arrive in the first weeks of March. Over 200 regions will host an invitational in April, will you conquer yours?
Earning an Invitation to Compete
Competitors can qualify for a 2020 Regionals invite via any of four paths:
Best in Community: The top trainer on a Community Leaderboard with 16 or more competitors will earn an invite.

Only Leaderboards for communities who have hosted 2+ Cups this Season will qualify.
Every 8 additional competitors on a Community's Leaderboard will earn the community an additional invite (i.e. 24 = 2 total invites, 32 = 3 total invites, etc).
If a competitor tops multiple communities' leaderboards, they will receive the invite from the largest leaderboard they appear on. The invites for their other communities will be given to the next qualified competitor in those communities.

Large Tournament Winners: Winners of rank-qualifying tournaments with 6 or more rounds will be invited.

An additional invite will be granted for every round past 6 (7 rounds = 2 total invites, 8 rounds = 3 total invites, etc).
If there is a tie for the highest score, all of the tournament winners will receive the invite.

Global Rank Cutoff: Competitors above a certain rank on the Global Leaderboards will each earn an invite.
National Rank Cutoff: Competitors above a certain rank on their National Leaderboard will each earn an invite.
Adjustments may be made in certain regions to ensure balance and accurately evaluate trainers in that region.
Invite FAQ:
Q: Will invitations "cascade" to the next person if someone has already received one?
A: If a competitor tops multiple Community Leaderboards, they will only receive the invitation from the largest Leaderboard they are on. The invitation(s) for their additional communities will pass to the next eligible competitor in that community. Invitations awarded to those above the Global and National rank cutoffs, or for winning a 6+ round ranked tournament will not "cascade." It is expected that many who top local Community Leaderboards or conquer large tournaments will also be highly ranked Nationally or Globally.
Note: Community Leaderboards comprised of very similar competitor lists will not qualify for distinct invites. Any attempts to manipulate invitations will result in permanent punitive action. Those seeking a "backdoor" to Regionals will be unlikely to perform well therein. Battle your best and play fair!
Q: What if a very large tournament earns multiple invitations but there is only 1 top-point winner?
A: If only one person earned the highest win-count in a very large tournament, the additional invitation(s) will go to the person with the next highest number of wins in the tournament. If there is a tie at that lower win-count (as there often will be), the invite does not go to all competitors tied at that win-count, but will be awarded in order of global rank achieved at the conclusion of the tournament.
Q: When will I hear if I am invited?
A: Invitations will be sent out to qualifying competitors in the first weeks of March.
Q: Will I be assigned to a specific date/location to compete?
A: No. Regional invitees can attend whichever (one) Regional Invitational works best for their schedule. Regional Invitationals will be held throughout the month of April.
Regional Host Information
The Arena's 200+ Regional Invitationals are hosted by volunteer host communities across the globe. Prospective host communities will be invited to submit a host application this winter.
Applications will open on January 1st and be accepted until January 31st. Those accepted will be notified in waves throughout the first weeks of February (to give them plenty of time to plan and prepare for their April event).
Host Requirements:
Application must be filled out by a Tournament Organizer.
The community applying must have hosted at least 4 Cups (from Season 1 and Season 2 combined) OR 6+ total ranked tournaments.
The applicant's Community Leaderboard must have at least 16 competitors.
The community must have a track record of hosting successful tournaments.
Tournament Organizers should be knowledgeable of the Arena Rules.
The Tournament Organizers should be in good standing with their community members and surrounding communities.
If you feel that you are qualified to host a Regional Invitational without meeting these requirements, please explain why in the space provided on your application.
Regional Host FAQ:
Q: What if we are a newer community, or split tournaments between multiple servers, and don't meet all of the requirements?
A: There will be a section of the application for groups that do not meet the above qualifications to make their case. If you split tournaments between communities, be sure to talk to your partner communities to collaborate on the application.
Q: When can I apply to host a Regional and when will I know if our community has been picked?
A: Regional Host applications will open in early January and will remain open for about 4 weeks. Accepted Hosts will be notified in waves during the first few weeks of February.
---
There's still plenty of time to earn your spot – even if you've underperformed in a few tournaments this Season. Battle hard and prepare to face the strongest competitors in your region at the Arena's 2020 Regional Invitationals! Only the best of the best will advance to battle at the Continental Championships and beyond in the ascent to becoming World Champion.
« More